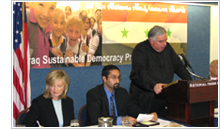 The Iraq Sustainable Democracy Project works at enabling our people to realize their rights, freedoms and equitable chance at development in Iraq. Our offices are in Washington DC, where we have been in operation since April 1st, 2005.

The ISDP's work is based on two core beliefs. First, the unity of our peoples is real and nurturing it is of paramount importance. Second, we have a viable future in Iraq and can work to develop ChaldoAssyrian and other minority population centers as models for development. This is especially the case in the Nineveh Plain, an area in the north and east of Nineveh Governorate that is a geographic testament to the Assyrians' indigenous status in Iraq and an area where they still predominate, along with other vulnerable minorities.

Our present success arises from the clarity of our mission and growing awareness in Washington that the loss of Iraq's real minorities will be a significant setback.

ISDP is a special project of the Assyrian Academic Society and has received community organizational support from the Assyrian American National Federation, Assyrian National Council of Illinois, Chaldean American Chamber of Commerce, Assyrian American Association of Southern California, Assyrian Foundation of America, and Assyrian Universal Alliance Foundation, among others. ISDP supports, works and coordinates with a vast array of civil society and human rights groups in Iraq focused on minority rights and issues.